Introduction
This site will give you an inside view of the most famous tour skiing routes in the world. The most famous is the 'High Level Route', it connects the world capitals of Alpinism: Chamonix and Zermatt. Other famous ski tours will also be covered as soon as we have done them.

On this site we offer you 2 trip reports of two different Haute Route (Chamonix - Zermatt) tours. The first one is the Verbier route and the second one is the Classique route.

2003 Update
Where is the 2002 you might wonder? Yes we did the famous Italian Haute Route! Some spectacular photos and trip reports will be uploaded soon. In the meantime enjoy our tour skiing 2003 pictures of the Gran Paradiso national park in Italy.
Further projects include:
- To be filled in after 2003 trip!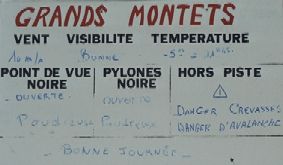 the last warning sign
The Team
5 young Dutchmen and a French guide exploring the Alps on ski's










News
After having aborted our Haute Route in 2000 in Arolla due to bad weather conditions, 3 of our team members and our guide have succeeded the Haute Route in May 2001. First we had planned our trip in April, but due to circumstances we delayed it one month. The weather in March and April was too bad, we were lucky to have a 6 day window of nice weather. Read our latest trip report.

Updates
- Our 2003 photos are online (bulk load!)

To come
- maps will be implemented (http://www.swissgeo.ch)
- new pictures of our 2000 trip